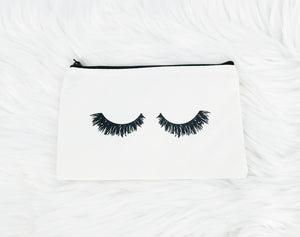 Too cute cosmetic bag printed with an eyelash pattern with a black zipper closure on top. This bag looks cute and stylish and can hold everyday items such as headphones, cell phone, sunglasses, and keys besides just makeup.

Made of polyester cotton, this bag can be washed by hand or by machine

The perfect gift being ideal for makeup lovers but also as gifts for Valentine's Day, Mother's Day, bridesmaids friends and family!

Size: 9.3" x 5.9"